Announcing Our New NVLD Support Group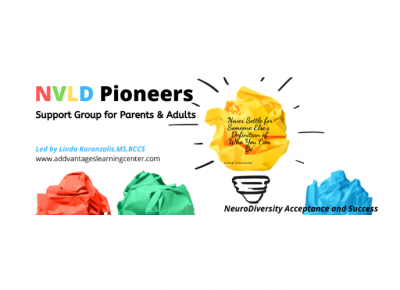 Do you ever feel frustrated and overwhelmed? Like you are the only one with or the parent of someone with a Non-Verbal Learning Disorder? Linda K. is here to let you know that you are NOT alone! She has created a private Facebook group called NVLD Pioneers, an NVLD support group for families and individuals affected by NVLD. The goal is to have a safe environment to express struggles and provide resources for families.
Linda hears from struggling parents everyday asking about ways to help their child. She works with children from all ages from elementary school to adults. In the group, she will be posting open forums for parents to inquire about specific behaviors or actions, and then Linda and other parents can share what methods have worked for them! Topics discussed can be anything from homework, chores, and the transition into adult independence.
The benefits of this NVLD Support group :
-First hand knowledge! Other parents are going through the same things you are and might have a new perspective or solution to share.
-A safe place to express frustrations and struggles. This group is designed for uplifting each other and giving positive advice. Negativity and hate will not be tolerated.
-Led by someone who is a Board Certified Cognitive Specialist AND is just like YOU! Linda provides knowledge from her first hand experiences living with NVLD and ADHD and her 20+ years experience in the world of special education.
You will come to find out that many families in the group have experienced the same obstacles you are currently trying to overcome. Everyone is uplifting and open to sharing stories, experiences, and methods about how they were able to get through it. The ultimate goal of NVLD Pioneers is to provide a positive learning environment and quality resources from a Board Certified Cognitive Specialist, thriving with NVLD and ADHD.
---
Linda Karanzalis, MS
Linda Karanzalis, MS, is a former special education classroom teacher with over 25 years of experience in the areas of learning disabilities, ADHD, social-emotional learning, social skills training, and behavior management