Linda's Story
My Childhood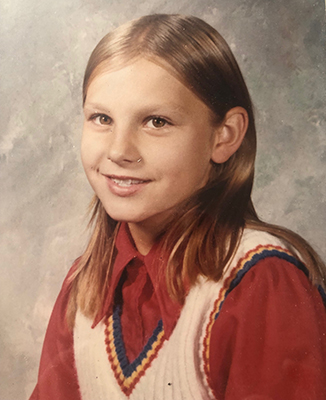 Once upon a time, there was a little girl named Linda who was afraid to go to school. Bullied and struggling tremendously with learning, attention and social difficulties. It was such a nightmare for her that she developed stomach ulcers and became school-phobic. Because she was a well-behaved child who tried hard, most teachers didn't address her difficulties, neglecting her education and allowing her to slip through the cracks. This little girl is me!
As I grew older, I discovered trying harder didn't work. My only option, it seemed, was to stop caring…because that made the stomach aches go away. Soon my high school guidance counselor was telling me I wasn't college material. It was devastating. Life and my future seemed hopeless. I was cutting school and associating with other kids with the same struggles and getting into trouble.
Despite this, I started college at the age of 22. I worked really, really hard, spent many more hours studying than my peers, and actually graduated with honors. It was all trial and error because I had no clue what I was doing. But I was determined to be something and do something. I wanted to be a special education teacher and help children who suffered as I did.
My Career
In my first teaching position, the children I worked with had learning and behavior problems. Initially, I thought they were just bad kids…and then I realized I was once just like them. I had so many of my own childhood moments of frustration and deep discouragement. The realization helped me excel in teaching these students using my own, self-taught methods. I even received an award from the Governor of New Jersey for their accomplishments.
Back then not much was known about learning
disabilities and little was known about ADHD…but they've existed for many years. My college education at that time had not prepared me for this. There were no courses or curriculum for ADHD, specific learning disabilities, social-emotional learning, spectrum disorders, and so on. In my teaching experience, I grew frustrated with the lack of long term solutions for learning academics and social skills difficulties in the school system. I wanted a better, more long term solution.
After spending a great deal of time researching the science of learning, I developed learning and social skills training programs for kids and started ADDvantages Learning Center in 1997. The response was amazing! There were no such places that provided brain training along with the other services I offered. I was inundated with families looking for help. Parents traveled for miles and enrolled their children, ages seven and up, in my programs, saw them start to meet their potential and to this day continue to be very happy with the results! Better grades, happier at home and school, learning and completing school work independently, greater ability to make and keep friends, no more extra hours on homework, and best of all, a real eagerness to learn!
Today, using modern technology I help parents and kids wherever they live with in- office and/or online accessible software with interactive personalized remote support.
I'm so pleased to see so many children overcome their difficulties and succeed in school and life.
I hope you'll give me the chance to help you and your child too!

Watch Linda's Show on Awake TV