Listen to Linda on ADHD for Smart Ass Woman Podcast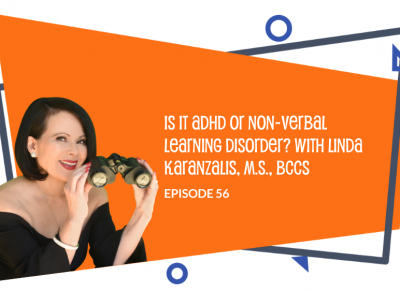 Episode 56: Is it ADHD or Non-Verbal Learning Disorder? with Linda Karanzalis, M.S., BCCS
Join Tracy and her guest Linda Karanzalis, in Episode #56 of ADHD for Smart Ass Women. Linda is a board-certified cognitive specialist and parent/student coach who provides executive function training and social-emotional learning programs for people of all ages. Linda also just wrote an article for ADDitude magazine's Winter 2020 issue on ADHD and Non-verbal Learning Disorder.
Linda shares:
Her symptoms in childhood
Her ADHD diagnosis
How she figured out that she had something more than just ADHD
Her Non-Verbal Learning Disorder (NVLD) diagnosis
What NVLD looks like
What percentage of communication is verbal vs non-verbal and why that matters
Why those with NVLD actually talk more, not less
What it means to not understand the meaning behind words and take things literally
How to tell the difference between ADHD and NVLD
Why those with NVLD are often misdiagnosed with ADHD
Why NVLD is still not recognized in the DSM even though they are both brain-based conditions
What happens to those with NVLD who are left untreated
Linda then shares the current treatment options for NVLD and explains why she believes they don't work. She also shares what she has discovered does work.