Parent Pro-Active (Distance Learning Program)
What is a Pro-Active Parent Session?
Training for Parents of Children with ADHD/ADD and Learning Disabilities to Achieve Success in the Comfort of Your Own Home!
90 Minute Session - $180.00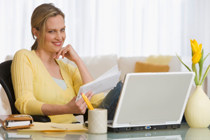 Choose the convenience of in home-on your computer learning to take ADDvantage of the expertise of Linda Karanzalis, MS. You'll learn how to make learning and homework less stressful and time-consuming for your child.
Experience the ease of one-on-one sessions in the comfort and convenience of your home with no travel or traffic hassles and on your schedule. During your individual Pro-Active Parent session you'll personally speak with Linda and be trained by her how to implement her unique strategies and techniques for learning, homework, and school success.
This is ideal for parents who would like to discuss their child's challenges and learn real solutions for daily learning and homework success. During your one-time 90-minute session Linda will provide you with individualized instructions to make learning and homework easier and faster at school and home.
Pro-Active Parent Tracks
Learning/Homework
Social/Behavioral
Parents select a track to best meet challenges they are facing with their child.
Track Topics
Learning/Homework – homework, note taking, organization, time-management, study skills, test prep, subject areas, motivation, and more.
Social/Behavioral – getting along with others, making and keeping friends, impulse control, making transitions, structure/routines, behavior management and accountability, problems solving, and more.
Customize Your Session
You'll select topics you would like to focus on and be able to ask questions pertaining to your child.
Connect Face to Face
All you need is to sign up for a free Skype account. Just follow the instructions sent to your e-mail to set up your account. Most computers have a built in webcam but if you don't have one, no worries, we can do phone sessions too. At the time of your appointment just log in! You don't need to be a computer guru; it's as simple as that! You'll instantly be connected to Linda for your one-on-one session in the convenience of your home, no traffic worries and no schedule hassles.
No Note-Taking Worries
We want you to learn and relax without worrying about taking fast and furious notes. At the end of the session we'll email you an easy to read packet covering your individualized session. You can then refer to it anytime you need to go over discussed plans for the present and future.
Convenient Scheduling
You can easily book your session online at your convenience. We'll even send you a reminder the day before.
How it Works:
Register
Pay
Schedule
E-Mail Confirmation
After you have registered, paid, and scheduled your appointment, you'll receive an email confirmation with instructions. First, your child takes our online cognitive processing skills evaluation. Linda reviews the results to prepare for your session. Next, during your 90 minute session one-time session she trains your your child overcome learning/homework or social/behavioral challenges. You then receive an e-mailed packet with testing results and notes of your session. Easy as that.
There is hope with ADDvantages' programs.
Go to our Register page to get started in our Pro Active Parent program today.